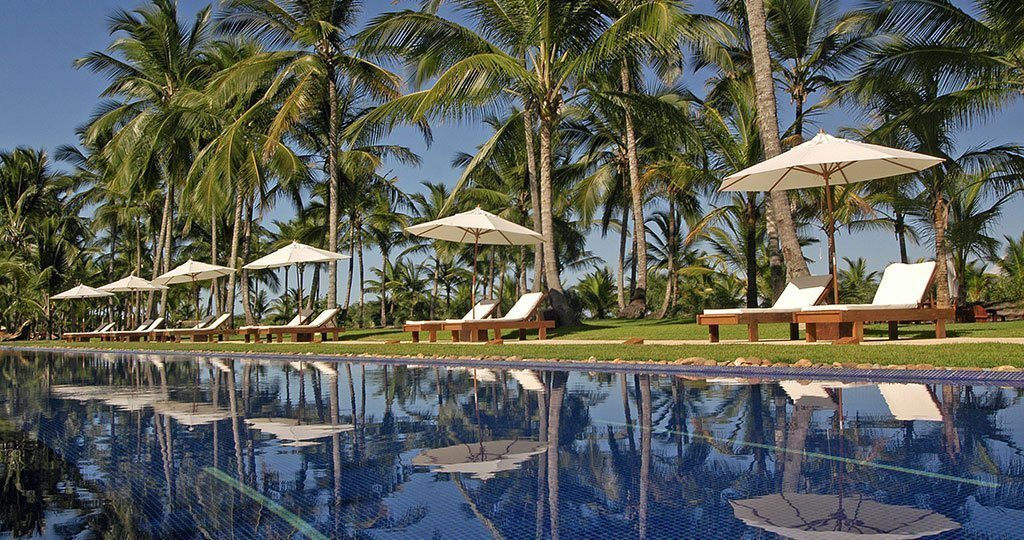 The Txai Resort is located in Itacare, Bahia, Brazil, 400km from Salvador, and a one hour drive from Ilheus. Itacare is known for its secluded beaches and preserved Atlantic Rainforest. This hotel is well integrated into the natural surroundings and offers guided eco-tours, rafting trips, canoeing, and trekking trails.
Contact our Brazil Travel Agents for a Brazil Vacation Package with this hotel.
Txai Resort – Itacare – Bahia – Brazil
Built individually on stilts and surrounded by wooden decks with details in palm-thatch, the bungalows at Txai Resort have been spread throughout the coconut groves to ensure maximum privacy for guests. Upon waking up, one just has to sit up in bed to be surrounded by a vista of nature and the sea through the picture windows. The interiors of the bungalows mix the rustic simplicity of Bahia with maximum comfort. The Txai also boasts suites built facing the ocean with the same comfort and style as the bungalows. The restaurant of Txai was built along the lines of traditional Bahian architecture with a stunning view of the sea. This restaurant is a perfect place to savor delicacies such as Brazilian cuscuz, "moqueca" – fish stewed with coconut milk, crab dishes, the Bahian shrimp dish "Bobo de Camarao," and other delicacies of Bahia and International cuisine.
The Txai Resort offers a living room, swimming pool – located a few yards from the beach -, TV room, Internet access, tennis court, spa, and a natural area. The Txai resort takes part in reforestation projects of native species through community work. In this way, the local population is aided in finding an activity that is economically viable, environmentally friendly, and socially ethical.
Amenities of Txai Resort – Itacare – Bahia – Brazil
AIR CONDITIONING

BAR

BREAKFAST

BUSINESS CENTER

POOL

RESTAURANT

SPA

TENNIS COURTS

TV

WI-FI
By combining luxury and comfort, the Txai Resort has 38 bungalows situated on the top of hills to give you a beautiful view of the ocean.
Premium Bungalow
70 square meters built on a wooden deck
Suspended on stilts with a private balcony and sun beds
Mini Bar
Safe
Telephone
Air conditioning
External key
King size bed
Luxury Bungalow
70 square meters above a wooden deck
Suspended on stilts with a private covered balcony and sun beds
Mini Bar
Telephone
Air Conditioning
External Key
King size bed
Superior Bungalow
60 square meters above a wooden deck
Suspended on stilts with a private balcony
Mini Bar
Safe
Telephone
Air conditioning
External Key
King Size Bed
Luxury Apartment
60 square meters above
Suspended on stilts with a private balcony
Mini bar
Safe
Telephone
Air conditioning
External key
King size bed
Luxury Mezzanine Apartment
80 square meters above a wooden deck
Suspended on stilts
Mini Bar
Safe
Telephone
Air conditioning
External Key
King Size Bed or 2 single beds
Apartamento Superior
45 square meters built above a wooden deck
Suspended on stilts with a balcony
Mini Bar
Telephone
King Size Bed